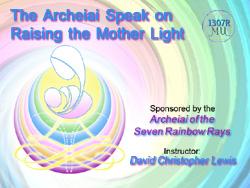 Description
Preview Video
Find out how the Mother Light rises within you!
Sponsors:
The Archeiai of the Seven Rainbow Rays
Instructors:
David Christopher Lewis
Fee:
$40 US. Discounts available for students living in other countries.
Course Description:
Faith, Charity and Hope are more than virtues. They are also the names of archeiai, the divine complements of archangels Michael, Chamuel and Gabriel. With archeiai Christine, Mary, Aurora and Amethyst, these seven represent the Mother Light of the Seven Rainbow Rays.
In this Meru University course, the Seven Archeiai come to show us how to raise the Mother Light within us in preparation for our ascension and raise the Mother Light in our Earth for its own ascension.
Feel the nourishing love of the Seven Archeiai and learn to…
• Master divine love in each of the seven rainbow rays with the seven archeiai
• Unleash the power of the Mother Light.
• Heal the suppression and subjugation of the Mother Light in religions, cultures and civilizations.
• Emanate the seven rays in perfect balance to resurrect a planet.

Gabriel Trumps His Horn, Calling More to Experience Their Divine Nature, And He Chants,
Blessing the Entire Earth with Crystalline Light Essences
Gabriel Shares the Importance of the Upcoming Meru University Course with the Archeiai

May I put in a plug for my beloved and her other six sisters of light, who are coming very soon into your midst during your Meru University course on the raising of the Mother Light? Precious ones, if you could see as I see it, what they have prepared within the chalice of their beings for each one of you, you would be amazed, and you would jump and leap at the opportunity to be in their midst as they sponsor this upcoming course. Truly, you will be ensconced in a great diamond-crystal radiance in multifaceted dimensions of being through the seven rainbow rays that will shine forth from Spirit into matter and directly into your auric field, your chakra centers. The energy streams that will be available unto you through the worded releases pouring forth through our amanuensis here, will be greater than all of you can yet and now imagine.

Dearest ones, we have been preparing this course now in your Earth time, if you can actually believe it, for a number of decades. For we saw long ago, the opportunity within the year 2013 because of the spiritual work of many upon Earth to provide for our own this alchemy of light, this blessing of the Spirit, this charging forth of the Mother essence and of the feminine aspects of the Divine into the Earth for the raising of all life, for the salvation of the feminine principle within every soul.

Course Trailer