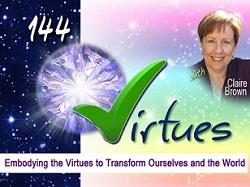 Description
Instructors:
David Christopher Lewis and Claire Brown
Fee:
Free or Make a Donation
Course Description:
What are the 144 virtues? What do the ascended masters say about the virtues and their importance to us? This course will assist you in identifying and exploring the 144 virtues and how they relate to the twelve God-qualities on the cosmic clock,* and to the seven chakras. There will be opportunity via our Forum for you to discuss what the virtues mean to you personally—the ways you experience them, understand them, envision them, and live them. You will learn how embodying them will accelerate you on your path as an initiate.

Description:
Enjoy the lively discussions as we focus on one God-quality of the cosmic clock during each class. And through our Forum, tell us about your insights, knowledge, experience with each God-quality and the virtues associated with it through a story, a quote, a poem, a prayer, a guided meditation, a drawing, a song, or any way you are inspired to share.
Class Topics:
Class 1: Power—Precipitating God's Divine Plan
Class 2: Love—Energy of Forgiveness and Transmutation
Class 3: Mastery of the Emotional Plane
Class 4: Control of the Flow of Life
Class 5: Obedience to the Inner Blueprint
Class 6: Wisdom—Illumination of Our Oneness in God
Class 7: Harmony—Mastering the Flow in the Four Lower Bodies
Class 8: Gratitude—Affirming the Gifts and Graces of the Spirit
Class 9: Justice—Equal God-potential in Us All
Class 10: Reality—The Real Self as God-Beingness
Class 11: Vision—The Inner Vision and Creative Energies
Class 12: Victory—The Fulfillment of Being God-Free
*Cosmic clock: An Aquarian-Age science of spiritual astrology, the cosmic clock was taught by beloved Mother Mary to Elizabeth Clare Prophet in the early 1970s. Disciples on the path of the ascension may use this understanding of the law of cycles to chart the patterns of the return of both positive and negative personal and planetary karma to meet the challenges and opportunities of today.
This cosmic clock teaching shares the deeper meaning of the 12 sun signs (solar hierarchies); their associated ascended master sponsors (to invoke for assistance); God-qualities to contemplate, absorb and master; colors to visualize; and anti-virtues (vices) to overcome through prayer, meditation and dynamic decrees.
Disciples of the ascended masters learn to anticipate the astrological portents of coming cycles, consume the negatives and highlight the positives through the use of the violet transmuting flame in order to pass each spiritual initiation and master the psychology of the soul in the process.
In The Hearts Center movement, the ascended masters have added an understanding of the superconscious, conscious, subconscious and unconscious selves as each relates to the cardinal (blue), fixed (pink) and mutable (yellow) aspects of the threefold flame. (Definition dictated through DCL by El Morya and Mother Mary, November 2015.)
Excerpts of HeartStreams from Beloved Virtue through David Christopher Lewis
Virtue Is the Need of All Mankind—Be the Flaming Fire of Virtue, March 22, 2006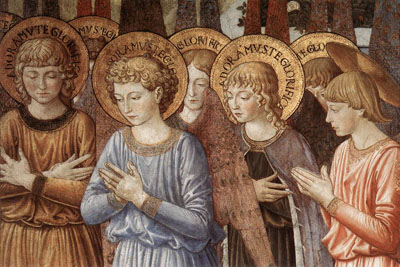 O mankind, rise in virtue. O mankind, we would welcome you to our octaves at night whereby you may learn more of how the naturalness of God in the fullness of the experience of living within the embrace of all of the virtues of heaven will win for you new opportunity to live a life—a bountiful life, a meaningful life and one graced with the flow of joy and expectancy where each new day is sought as an opportunity to express more of God through all of the virtues available to you from our realms.

Soulfulness Is a Virtue, October 30, 2010
Each virtue that you embrace consciously of the Divine One may become a permanent resident within your auric field as you meditate upon the various aspects of the differentiation of light within that virtue and attempt to breathe it in daily with great joy and even in spontaneous moments to be expressive of that childlike virtue unto others in playful and noble ways alike.

Study Materials, References and Links
Make use of our study materials to develop your thoughts and enhance your creative juices: Download 144 Virtues Resources PDF
HeartStream by Beloved Lady Kristine: The Amazing Grace of God's Virtues, Every Virtue Is Available to You within the Eternal Now of Your Presence, December 30, 2011 Listen/Read
HeartStream by Beloved Virtuel: An Invitation to Be Present for Twelve Monthly Classes on the Virtues, Rising in Buddhic Consciousness to Access the Virtues of the Spirit, January 18, 2012 Listen/Read
Discourse by David Christopher Lewis: The Chakras as Foci for the Feeding of the Aura with the Virtues of God Consciousness, April 25, 2011 Listen/Read
HeartStream by Beloved Virtue: Soulfulness is a Virtue, October 30, 2010 Listen/Read
HeartStream by Beloved Virtue: Virtue Is the Need of All Mankind, Be the Flaming Fire of Virtue, March 22, 2006 Listen/Read
The Value and Joy of Applying the Virtues by Claire Brown Listen
The Virtues Class Series and Meru University Course 1202 on Adeptship with El Morya by David Christopher Lewis Listen
The Virtues Project— Bringing Virtues to Life: The Virtues Project was founded in Canada in 1991 by Linda Kavelin Popov, Dr. Dan Popov and John Kavelin. It was honored by the United Nations during the International Year of the Family as a "model global program for families of all cultures."
Amaryllis, Goddess of Spring, This HeartStream Inspires us to work consciously with the nature spirits and recommends the class series on virtues, April 18, 2012

3-Minute Course Preview