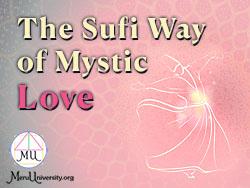 Description
Preview Video
Sufi Spinning Is God's Love Manifest
Title
The Sufi Way of Mystic Love
Length
Four 1-Hour Class Videos - We apologize for the technical difficulties that occurred at the beginning of each class.
Sponsors
Beloved Maha Chohan and Djwal Kul
Instructors
Nancy Freaner and David Christopher Lewis
Fee
$25 US. Discounts available for students living in other countries.
Course Description
Unlock and deepen your understanding of the secrets of Sufi wisdom and gain a heightened experience of love by interacting with the Maha Chohan and Djwal Kul in a most personal way through the poetry of Rumi.
Category
Heart Centeredness, Heart Mindfulness, Heart-Soul Connection
Discussion and contemplation of ways to apply Sufi wisdom, especially during experiences that may cloud the mirror of our heart, a chakra that is meant to be a beacon of divine light and love
Up-to-the-minute teachings, guidance and support by the Maha Chohan and Djwal Kul that will help us to continually return to our heart center and a state of love, peace and mercy
Integrative opportunities for new understandings
Interactive classes and darshans with the Maha Chohan and Djwal Kul
Experiential lessons
Reading Materials and Books
Click on cover to order.
Required Reading

Love's Ripening: Rumi on the Heart's Journey,
translated by Kabir Helminski and Ahmad Rezwani 2008, Boston: Shambhala Publications, Inc. ISBN-13: 978-1590305324
Alternate Reading

Rumi, the Book of Love: Poems of Ecstacy and Longing, translated and commentary by Coleman Barks, 2003, New York: Harper Collins Publishers. ISBN-13: 978-0060523169









Rumi: A Spiritual Treasury by Juliet Mabey, 2008: Oneworld Publications—160 pages. ISBN-13: 978-1851682157



Additional Links and Resources
Listen to Djwal Kul of Sunday, July 25, 2010
View video of Rumi's poem: Say I Am You
Watch Whirling as the Inner Silence
24-minute video on life of Rumi
2-Minute Course Preview