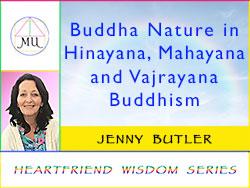 Description
Preview Video
Buddhism and Spiritual Evolution
Title
Buddha Nature in Hinayana, Mahayana and Vajrayana Buddhism
How to Access the Course
1. Log on to the website using your recognized username and password. If you do not have a Meru University account, please create one here:
Create Meru University Account
2. Click on the "Register" button above. Once you have registered and optionally made a donation, you will receive a confirmation email that you have successfully registered.
3. Click on the
blue
words
"View Full Course MU 2021-07 in English HERE"
or
"Ver curso completo MU 2021-07 en español AQUÍ"
in the gray box located on the left side or at the bottom of this page.
Sponsors
Padma Sambhava, Avalokitesvara and Tulku Akong Rinpoche
Instructor
Jennifer Butler
Languages
Available in English and coming soon in Spanish. (La grabación estará disponible en inglés y español.)
Fee
Free or recommended donation of $10.00
Course Description
This class presents a broad overview of Buddhism as it has developed over the centuries in different countries in Asia since the time of the historical Gautama Buddha. A unique feature of this development is that is has been evolving or unfolding to higher, more complete and more self-aware levels as it has progressed through the past 2,600 years.

All sentient life has the potential for spiritual evolution and is manifest in Buddhism through what is called the Three Great Turnings of the Wheel of Dharma or Hinayana, Mahayana and Vajrayana Buddhism. Each turning of the wheel brought Buddhist thought and practice into higher, more profound levels of understanding of the nature of the individual and the universe.

These deepening cycles are also part of our own unfolding spiritual lives, even if we are not Buddhist, as they outline a course of spiritual maturity and realization available to all of us: to recognize the 'always/already', perfect, luminous and enlightened nature of our being in spirit and to aspire to attain the wisdom mind and compassionate heart of the Buddha.
Category
Heartfriend Wisdom Series
Course #
MU 2021-07
For assistance creating an account or accessing a course, please contact registrar@meruuniversity.org.
Meru University is the education branch of The Hearts Center, a charitable spiritual community