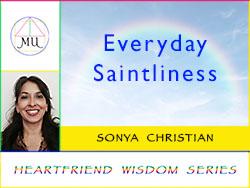 Description
Preview Video
Are You Kind and Saintly Every Day?
Title
Everyday Saintliness
Sponsors
Mother Teresa, Jesus and El Morya
Instructor
Sonya Christian
Fee
Free or Make a Donation - Recommended donation US $10.00
Course Description:
Join me in discovering what Everyday Saintliness means in this world!
Learn what Mother Teresa taught on extending our Love to the World—how to be an Everyday Saint.
Preview The Kindness Dairies—one man's quest to finding Kindness around the World.
Discover ways of tapping into your Everyday expressions of Kindness through Random Acts of Kindness.
Blessings are waiting for us—when we Give, we also Receive.
You can make this World a better place by your Everyday Saintliness Behavior, which starts at home.