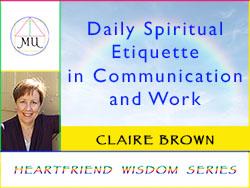 Description
Preview Video
How can we create an environment of joy, harmony and oneness?
Title
Daily Spiritual Etiquette in Communication and Work
How to Access Class
1. After logging on to the website using your recognized username and password, click on the "Register" button above. Once you have registered, you will receive a confirmation email that you have successfully registered.
2. To view the course videos, click on "View Lesson Video" in
blue words
in the gray box to the left or on the bottom of this page.
Fee
Free or Make a Donation - Recommended Donation US $10
Course Description
Many of us were taught etiquette at home as youngsters, the code of polite behavior that engenders civility, harmony, and respect: please, thank you, the golden rule, etc. So what is spiritual etiquette and how do we practice it in our daily communications and work environment? Find out how self-mastery, attunement, mindfulness and other keys can make your daily work life joyful and harmonious, and bring you closer to those with whom you work and communicate.
Category
Heartfriend Wisdom Series; Golden-Crystal Age, The New Age and Aquarian Living
Course #
MU 1702